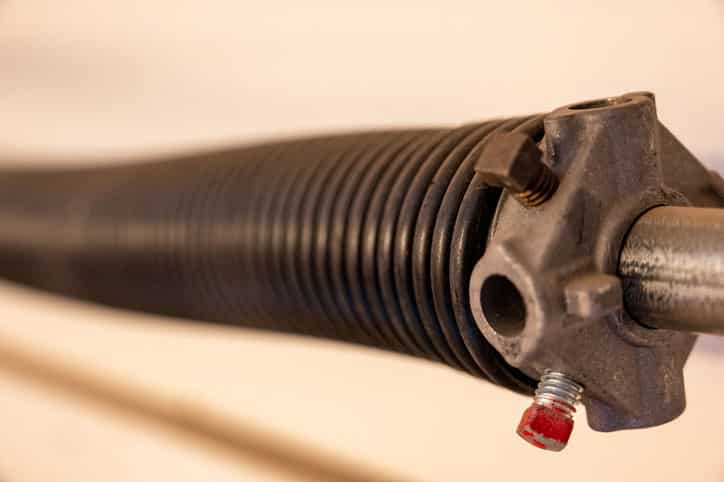 The coronavirus pandemic has really added to the use of the garage door.
We normally open and close the garage door on average about 5 times a day. Now, with families working from home and package delivery being at an all time high, the garage door is used more than ever. This reduces the lifespan of all garage door components, especially garage door springs.
How Often Should I Replace My Garage Door Springs?
Garage door springs have cycle counts that help estimate life expectancy of the springs. The higher the count, the longer the spring will last.
Most garage door springs typically last around 7-10 years. With the increased use of garage doors during the pandemic, we have seen that number go down to 5-7 years.
The Function of Garage Door Springs
Garage door springs work as a counterbalance system to offset the weight of the heavy door. When one breaks, the door is too heavy to lift, making the door inoperable. This can be very inconvenient if your car is inside and you need to get it out.
Rather than waiting for the spring to break, it is vital to get ahead of this inconvenience. Knowing approximately how long they have been installed is the best indicator of when it is time to replace them.
Why Should You Be Proactive When It Comes to Your Garage Door?
Due to the shortage of raw materials, including metals, fixing a garage door spring is not as quick and easy as it used to be. Metal is now only sold in small quantities and garage door components are no longer locally sold separately. And unfortunately, the raw material and spring shortage has driven up the price of springs or coils by at least 30%.
Waiting for your springs to break before replacing them might mean that your garage door is unusable for days or weeks.
Choose Garage Door Specialist for Garage Door Maintenance
Our garage door springs typically have a 10 year warranty. We use high cycle springs that are longer in length and have a thicker wire size. With our springs you will have peace of mind knowing they should last 10+ years prior to breaking. If they do break, we will replace the broken spring at no part charge within that 10 year time frame.
If you're interested in garage door maintenance or need garage door repair, we're here to help! Get started by scheduling your free consultation or give us a call at (919) 841-0030.