How To Measure For a New Garage Door
Confirm Your Garage Measurements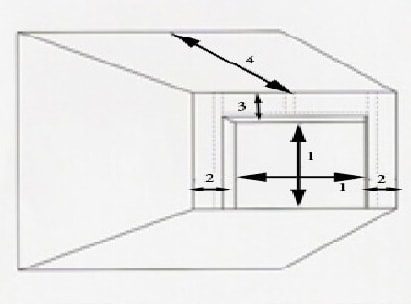 SEE PHOTO: The image on this page is displaying what is needed when measuring for a new garage door. Always measure the finished opening. It is also a good idea to measure between each footing and get the ceiling height as well.
The basic width and height. Always give the width 1st followed by the height. For example 9′ x 7′ = 9′ wide and 7′ high. We can basically get any size door they come in increments of 2″ on the width and 3″ on the height.
Side room, the amount of space that is on either side of the door. In general we need at least 3″ and preferably more. This will allow enough room for the tracks which are typically 3″ wider than the actual door.
The headroom above the garage door and ceiling, or even an obstruction such as duct work or piping, etc. As a rule a garage door requires a minimum of 6″ of headroom and preferably 12″ or more.
The backroom is the measurement from the header or front wall to any obstruction such as a beam. For example the more popular Liftmaster belt drive Model 3280 is 128″ in length installed with a 7′ rail. If you do not have 128″ it is not a problem we offer other operators that will work in less space.
We always prefer to do a site check before any door is ordered to confirm these measurements so if you are unsure it is not as problem. Contact us today!