Soaring to high popularity is the Full View Glass Garage Door. What is not to love about them?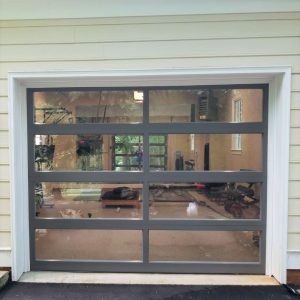 They are modern, sophisticated and come in many different color and tint options. You may see one on your updated neighbors home, or at a cool restaurant or brewery in the area. They also look great at the beach and can be powder coated to resist rust, in that salty climate. We specialize in these doors and can provide a free estimate to you to help put this project in motion! Call today  at 919-388-9320 or fill out a contact form.
The garage door is called a Full View Aluminum door. They are engineered perfectly with glass and aluminum. They are the best blend of modern and industrial. They come in all sizes and insulation types. The Construction of the door is heavy duty.
The standard finish on the Full View Glass doors is Anodized Aluminum, or silver. There are other powder coated options such as White, Dark Bronze, and Black. The Glass options are; plain, tinted, frosted, white laminated, and clear laminated.
The Full View Glass door has a limited lifetime warranty, offered by the manufacturer, CHI.
These doors are manufactured in the United States.
If you would like to see one in person, come by our showroom!