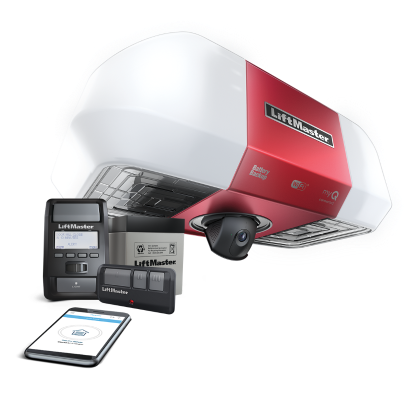 New product alert! Liftmaster just came out with their smart garage door opener with a camera. This new offering comes with many interesting features, from two-way communication to smartphone control. 
In this post, we're reviewing the main benefits homeowners should consider before purchase.
A Built-In Garage Door Camera
With its live-streaming 1080p HD video and 360-degree rotation, you can use this Liftmaster garage door opener to keep an eye on your home's entry point! You'll have the ability to watch your kids play safely in the driveway or monitor the area while you are at the office or on vacation, giving you peace of mind.
The camera begins recording when motion is detected and you're able to view past activity with either a 7-day or 30-day storage option. It's important to note that the camera has night vision that adjusts when the camera is used, so you can monitor at any time with clarity.
Two-Way Voice Communication
Not only can you see what's going on in the garage, but you can also communicate with the person inside. The two-way voice communication allows for a real-time conversation whether you need to tell your neighbor where to find something in the garage or welcome the kids home from school. You can adjust the volume and enable or disable the microphone as you please.
Garage Door Control From Your Phone
To utilize the two-way voice communication, you'll use the myQ® app on your smartphone. This app gives you complete control over the garage door opener no matter where you are. You'll receive alerts, be able to check the status of your garage, and secure the garage door.
Imagine being able to open the garage for the delivery of important packages then close it back – all from miles away.
All The Basic Needs, Too
This garage door operator also has every feature you could want in a garage door opener, including:
Quiet belt-driven system
Battery back up
Built-in surge suppressor in the circuit board
Timer to close door + alert system before the close
Invest In A Smarter And More Secure Garage
The new Liftmaster Smart Garage Door Opener with Camera adds security to your home and provides you access to your garage no matter where you are. With many additional bells and whistles, it far exceeds the traditional garage door opener.Ready to purchase? This operator has just been released and we have limited supplies available. Please give us a call at (919) 841-0030 or contact us here for pricing and more details on installation.