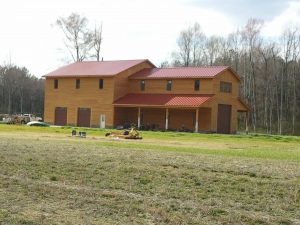 As you know we love garage doors and, just as much, the garages that go along with them. This garage comes to us from the small town of Selma, NC. Founded in 1873 with a population of under 10,000 it truly is a small town. Selma is known as a railroad town and has a recently renovated Amtrak station built in 1924 which is still used today. The oldest surviving train station in the US is also located in the small town of Selma.
The build on this garage has a cabin feel and appearance. The exterior is finished in a beautiful cypress plank siding. On the inside there's carryover from the outside with the cabin style from the wood ceilings and rafters. The floors are crafted from over 100 year old wood formerly used in an old barn, and as you can see the planks are just as straight as they day they were made.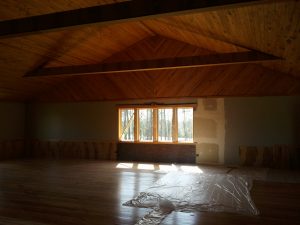 All three doors were from the Oak Summit collection, a carriage style door manufactured by Amarr Garage Doors. The color is a newer dark woodgrain finish designed to look like a dark wood stain. The finish is a baked on paint just like the standard finishes but really does look like a stained wood door. All three doors are the model 3000 which is a triple layer door constructed with steel on both sides and a layer of polystyrene insulation in the middle. All three doors are windload rated to 120 MPH exceeding the county code.
On the side we installed a very large 14′ x 14′, this will house his RV. This door was a bit of challenge because of the low ceiling height. We were able to fit this door in with only 12″ of head room above the door. Normally this isn't a problem but as you can see in the pictures the springs and drums are 6″ in diameter, much larger than a standard residential garage door spring. The opener we used is the Liftmaster 3800 residential jackshaft. This opener mounts to the side of the door up on the front wall and really helps where limited head room is of concern.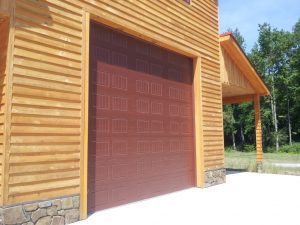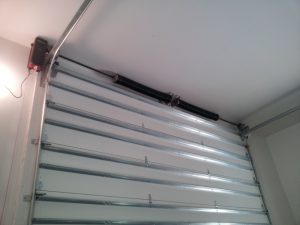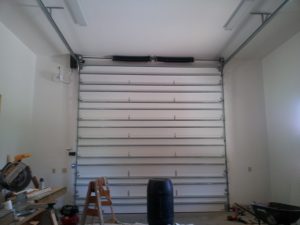 On the front we also installed two Amarr Oak Summit 3000, 10′ x 10′ carriage doors. On these we went with high lift tracks that go 44″ higher than standard tracks. This will get the doors and the horizontal tracks up closer to the ceiling giving some extra clearance for equipment and future plans for the space. The liftmaster 3800 was also used and as you can see is a very versatile opener working on nearly any application.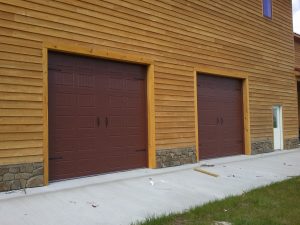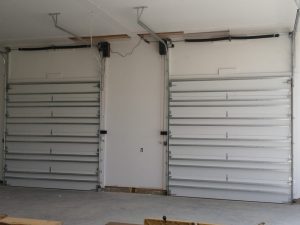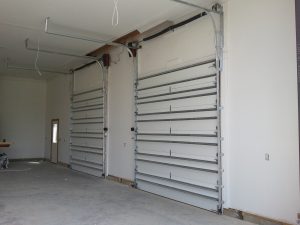 We are very pleased with the outcome of this job and feel confident the customer did as well. It is a beautiful garage and we were very glad to be a part of it!