Garage Door Torsion Spring Repair Raleigh
Garage Door Specialist specializes in broken torsion and extension spring repairs.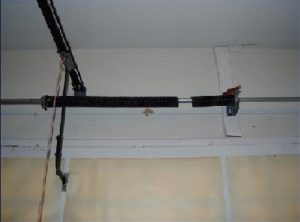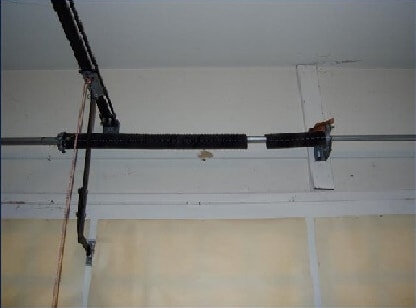 Garage door springs are extremely dangerous and should always be adjusted and repaired only by professionals. Most manufacturers distribute 10,000 cycle life springs with new garage doors. This means you can raise and lower your door 10,000 times before you can anticipate one or more of your springs to break. If the door is used 3-5 times a day on average this will give a lifespan of about 7-10 years.
We always suggest doors over 10′ wide always get two springs over the commonly used one spring setup. When using two springs on a garage door it almost doubles the lifespan and the door is less likely to come off track. Our replacement springs are most times larger in length than the springs than came with the door when originally installed. The longer length displaces the tension over a greater amount of wire and greatly increases the lifespan of the spring. Most springs that we carry have a cycle life of over 20,000 cycles and we warranty the springs for TEN YEARS. Our technicians keep 99% of the springs commonly used on most garage doors in their trucks and are fully prepared to take care of your emergency quickly and efficiently.
Even the smallest of garage doors weigh a minimum of 100 pounds. One common misconception is that the electric garage door opener does all of the heavy lifting of garage doors. Actually all garage doors have some type of counterbalance system that assists the opener in raising and lowering the garage door. If the springs in the counterbalance system have weakened it can put a tremendous amount of strain on the electric garage door opener and potentially damage the gears or even worse damage the motor. It is always a good idea to check the garage door once a year and make sure it is balanced properly.
A properly balanced garage door will hold itself up in almost any position and not fall or slam to the ground when used manually without the garage door opener. If it does not hold itself up the springs either need to be adjusting or replaced. Never attempt to adjust or replace torsion springs without a professional as mentioned before they can be extremely dangerous. Read an extremely informative article in garage door safety and maintenance. If your spring is broken, needs replacing, or your garage door is stuck, jammed, won't open, won't close, or is off track, we can help. We have seen it all, don't make the problem worse by trying to force the door open because it's stuck, or forcing the door closed.
---
Call the location nearest you setup a garage door spring repair appointment:
Raleigh: (919) 841-0030
Cary/Apex: 919-388-9320
Durham: 919-680-3001
Wake Forest: 919-954-7011