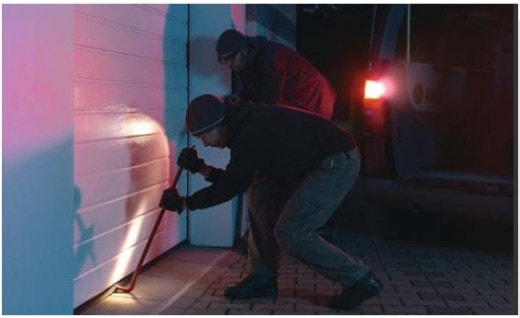 People are targeted by home improvement scams every day. To help you be a more informed homeowner, let's talk about scammer garage door companies and how you can avoid being taken advantage of by one.
Garage door scams often involve a company that operates under several business names, or that changes its name often. This can make it hard to find them if you have any issues with your repair or installation. A scammer garage door company may change its name often to avoid paying the consequences for over charging or not doing good work. There may also be several businesses operating from one location in an attempt to hold more market share, which also makes it difficult to compare prices.
Signs To Spot a Scam Garage Door Company
Do They Have a Legitimate Website?
Does the company you are contacting have a website that matches the business name? If it is just a generic website with stock photos and no real technician or truck pictures, chances are it is not a legitimate business.
Where Is Their Location Listed At?
A real business address that can easily be found on Google or Apple Maps is imperative. If you can't find them on these platforms, be wary. You do not want to do business with someone running the garage door business out of an apartment or truck. Ask the company you are considering if you can come to visit their showroom or location. If they do not allow that, chances are they are a scammer.
How Do They Answer The Phone?
This may seem inconsequential, but it can be telling. A business should answer the phone with the actual business name. If they simply answer with "service" or "garage doors", it's possible that they are trying to not be identified as a specific company.
What Do Their Vehicles Look Like?
Is the truck or van marked with the business name? Lettering a truck is a commitment and not easily changed. If the vehicles are not marked, it doesn't automatically mean they are a scammer, but it should put you on alert.
Do They Have Employees or Subcontractors?
In the Triangle, we have several out-of-state companies that operate under many different names and use subcontractors instead of actual employees. These subcontractors are typically very unprofessional and not well trained. Look for companies with employees, not simply contractors.
Are Their Reviews Legitimate?
Unfortunately, reviews cannot always be trusted these days. Companies can buy reviews from businesses selling them and can appear like they have many happy customers when in fact they have purchased hundreds of reviews. Google does have an algorithm to help prevent this, but often they go undetected.
Spotting fake Google reviews can be tricky, but there are a few things to look for. If a business has several reviews left on the same day, they may be fake. Rarely do businesses receive an influx of reviews in one day. In addition, look at the profile pictures of the users leaving reviews. Sometimes fake reviewers use photos of celebrities instead of a real profile picture in an attempt to make it look more legitimate at first glance.
More Tips to Spot a Garage Door Scam
Here are our top tips for making sure you are using a real and reputable company:
Ask for insurance paperwork before scheduling. Businesses are required by law to have this in North Carolina, so if they can't or won't give their insurance information, they are likely a scammer.
Does it sound like a call center when you are speaking with them? If so, try contacting a company you know is local.
Make sure the company working on your home is registered as a business with the Secretary of State or the Better Business Bureau.
Choose Garage Door Specialist
With over 20 years of experience, you can rest assured that when you choose Garage Door Specialist, you're choosing a reputable company. We've provided garage door installation, maintenance and repair services to homeowners across North Carolina, and we're ready to help you. Get started by scheduling your free consultation or give us a call at (919) 841-0030.