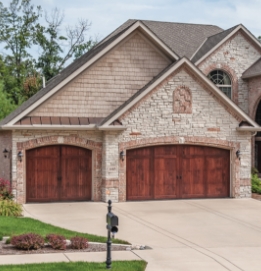 One of the most common questions we receive is, "what are the quietest garage doors?"
Several factors go into what makes a garage door quiet, including the insulation values, manufacturer, how much you service and lubricate the garage door, as well as what type of operator you have installed.
Let's go over these factors and how they impact the noise level of your garage door.
Garage Door Insulation Levels
Insulation provides R-value to help regulate temperature inside your garage, but it also helps make garage door operation quieter. Here is an overview of the types of garage doors and how the insulation reduces noise level.
Steel Back Insulated- Solid & heavy, two-sided steel. Less vibration during operation, making for quieter operation.
Vinyl Back Insulated- Vinyl and polystyrene backing help prevent vibration and quiet noise, but it is not as heavy duty as the steel back insulated garage door.
Non-insulated- This garage door produces the most noise and vibration. There is no insulation between the sections to help with vibration during operation.
Which Garage Door Manufacturer is Quietest?
Which manufacturers are quietest depends on which manufacturers are sold in your region. In our area of North Carolina, the Triangle and the beaches, our preferred manufacturers of quality quiet doors are as follows. They are all made in the United States.
CHI offers quality construction and neoprene rollers on all garage doors for the quietest operation. CHI also offers the longest warranty of the manufacturers on hardware and sections.
Doorlink garage doors have been very reliable and offer modestly priced garage doors with a good warranty that stands behind their product.
Amarr now also has some garage doors manufactured in NC. They offer warranties similar to CHI, but coverage is not as long on the hardware.
Garage Door Maintenance
Maintenance and upkeep make a big difference in both the life of your garage door and the noise level. When your garage door isn't properly maintained, it will be louder and operate less smoothly.
Extreme temperatures, like those we sometimes experience in North Carolina, dry out the lubricant on the garage door and make it rust which in turn ages the parts quicker. Keeping the garage door lubricated, well adjusted and serviced helps the moving parts operate better. Maintenance will also help you get ahead of any issues before they have a chance to impact the function of your garage door.
Choosing the Right Operator
The operator plays a big part in a garage door's noise level. You have two options: belt drive and chain drive. When talking about quiet operation, the clear winner is the belt drive. To take the silence to the next level opt for a DC motor on your belt drive operator, like the Liftmaster 84501. The direct power source moves in one constant direction allowing for smoother operation, and it's more energy efficient.
Need a Quieter Garage Door?
We always offer free onsite estimates to go over ways to quiet down your garage door or operator. We also offer garage door maintenance to ensure your door is always in tip top shape. And in the event that you need a new garage door or operator, we can help! With a variety of garage doors to choose from, you'll find the perfect one for your home. Get started by scheduling your free consultation or give us a call at (919) 841-0030.