This is a new garage door installation project that we recently completed in Cary, NC.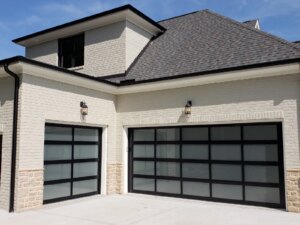 Cary holds a special place in our hearts because it is our home town. I spent a lot of time in this particular neighborhood growing up, so seeing these homes transforming and new constructions filling the streets is amazing. These full view aluminum garage doors modernize homes and bring this industry-leading trend to the Raleigh-Durham area.
Pictured are CHI model 3295 Aluminum Full View Glass Garage Doors. They have a black powder coated frame. It also has frosted glass for privacy. The sleek design of this door compliments this modern house perfectly. Full view glass garage doors are being used in so many ways. In addition to transforming a house and completing its unique design, it can also help to bring the outside in and enhance any view.
These garage doors – as with all of our garage doors – come with warranties, and top of the line, heavy duty hardware such as high cycle torsion springs and neoprene rollers for smooth gliding in the tracks. They are manufactured by CHI right here in the United States. The Full View Aluminum Garage door takes 2 weeks to order, add an extra week for colored powder coating.
Give us a call today to find out more about these garage doors.