Durham, North Carolina is known for being on the cutting edge of research and development. Durham is alive with sports, music, and culture. The city's homes have such rich history and design details. Most Durham homes are classic with a lot of special features. This is exactly how we would describe this customers garage doors that highlight their home.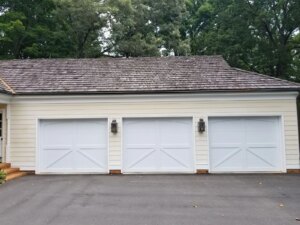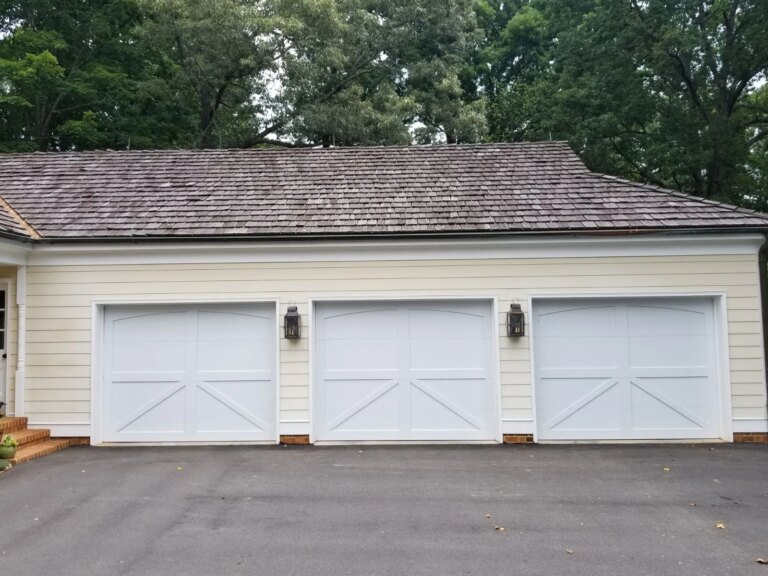 Pictured are the CHI Overlay Carriage House garage doors. CHI Overlay Carriage House garage doors have the look of natural wood, but the strength of steel. These doors come in white, almond, and sandtone colors. They also come two tone with white and almond or sandtone. CHI Overlay Carriage House garage doors are unmatched because they have the depth of true overlay construction. These overlay Garage Doors also have a steel back with a polyurethane core which provides the highest amount of insulation for weather and sound.
There are many CHI Overlay Carriage House designs to choose from. These doors are model 33A. A glass top section and decorative hardware can be added to any carriage house doors.
All CHI garage doors have a limited lifetime warranty on the sections, three year warranty on the torsion springs, and a six year warranty on hardware such as tracks, drums, cables, and rollers. Homeowners can also upgrade to Lifetime warranty packages that have upgraded hardware and springs for full coverage as long as you own your home.
All CHI garage doors are made in America, and go through extreme tests and specifications to make sure they are the finest quality garage door available on the market.
Just like Durham, NC has the most up and coming advances in technology and design so do these CHI Overlay Carriage House Garage Doors.
Please contact us for a free estimate or to have any questions answered. We are happy to help you find the best garage doors to compliment your home.