Now is a great time to prepare for home improvement updates when spring returns. It is a hard decision for some people to choose a new style garage door. We can certainly understand why since it can refresh the exterior of your home like nothing else. It is such a large focal point of the home. A garage door takes up anywhere between 8-18 feet of the exterior of your home. It is the first thing people see when they pull up to visit you. Give yourself some time to research the styles available, try them out through the latest technology to see how they will really look on your home. Of course we are always available to answer any questions you have and are happy to help provide all of the information you need to make the decision. 
Below we have the top three trending garage doors in the Triangle and Coastal Communities of North Carolina:
1. Raised Panel Garage Door (Short or Long Panel)
The raised panel continues to be the most popular garage door style in the industry. Raised panel is a traditional design that replicates the original wood garage door look. It is so popular because the style can fit on almost any home and look great. The long panel is an option that has the same stamped look but is a bit of a simpler design and is less busy since it has larger rectangles instead of the square design.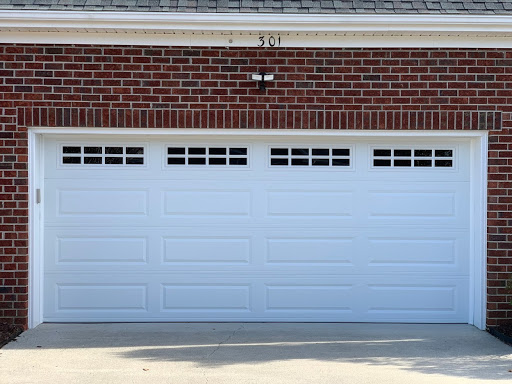 Another reason that you see this style garage door on so many homes is because it is so traditional and a standard option, it's kept in stock in large quantities at local manufacturers such as Doorlink and Amarr. There are many options for this style such as higher levels of insulation, glass with design inserts and different color options to match your home.
2. Full View Glass Garage Door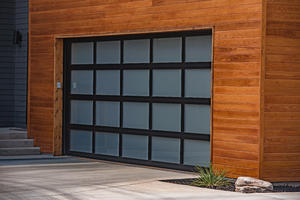 More time at home with a better view! That is what has increased the popularity of these special order garage doors. The admiration of these garage doors have increased over time. This garage door was once only seen at fire stations, service stations or restaurants. Now they are everywhere with some not only installing them in the garage but also in recreational rooms, home gyms, kitchens, laundry rooms, or near the patio of their homes.
The beauty and value of this garage door is hard to compare and looks great on contemporary or transitional homes. It can really change the way your home looks, not only from the exterior but from the interior as well.
3. The Recessed Panel Garage Door (Short Classic / Long Transitional)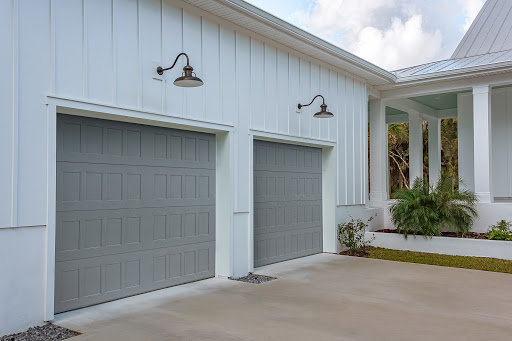 The short recessed panel has become very popular recently. It is a great alternative to the raised panel garage door or the stamped carriage garage door. These garage doors can have added decorative hardware of hinges and/or handles to the exterior if you prefer. All accessories are dependent on the customer's choice for their home.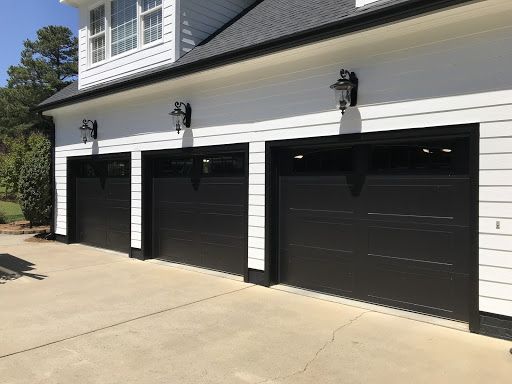 The long recessed panel garage door is a great option that is a favorite of people looking for long panel garage doors. They have a lot of style and are contemporary but also are so classic that they are used often on historical homes and communities because the design is ageless. The garage doors pictured here are Doorlink Model 3680 in the color option of black.
Find The Best Garage Door for You at Garage Door Specialist!
The thing to remember here is that the home is the biggest investment for most people. It's important to feel good about your update since it will be the focal point of your home for 20-plus years! It is worth a little bit of extra time and planning to pull up and think "I Love My New Garage Door!" As your local garage door company, we want your garage door to function safely as well and that is certainly top priority. We only install quality-brand garage doors that have a history of being a great product and having a solid warranty to stand behind it. You are welcome to our showroom and may share any pictures you like of garage doors. We can help identify the manufacturer and find something in your budget that you will be happy with for years to come. Come visit us at 5605 Chapel Hill Road Suite 120 Raleigh, NC 27607. Per our COVID-19 protocol, we do ask that you please call in advance so we can be prepared as we are spacing out visitors.